Yesterday afternoon I took my mom to tea and food at a recently opened flower shop & tea room. We shared some sandwiches, lentil soup, cookies and jam, over hot cups of tea. The portions were huge and the tea selection is small but covers all the bases. I had a strong black tea with cardamom, mom had a borage flower and lavender brew. It was pouring rain by the time we got out and our plans to go to see a movie changed when my mom realized she forgot her glasses at home. So we decided it's a sign that we should part ways and go home and be dry and warm.
On the way home I got the urge to make a bread pudding (omg, I totally just wrote brain pudding), partly inspired by a friend misreading another friend's tweet (she said "afternoon pubbing," but somehow it became "afternoon pudding"). So I gave in to the urge and made this when I got home.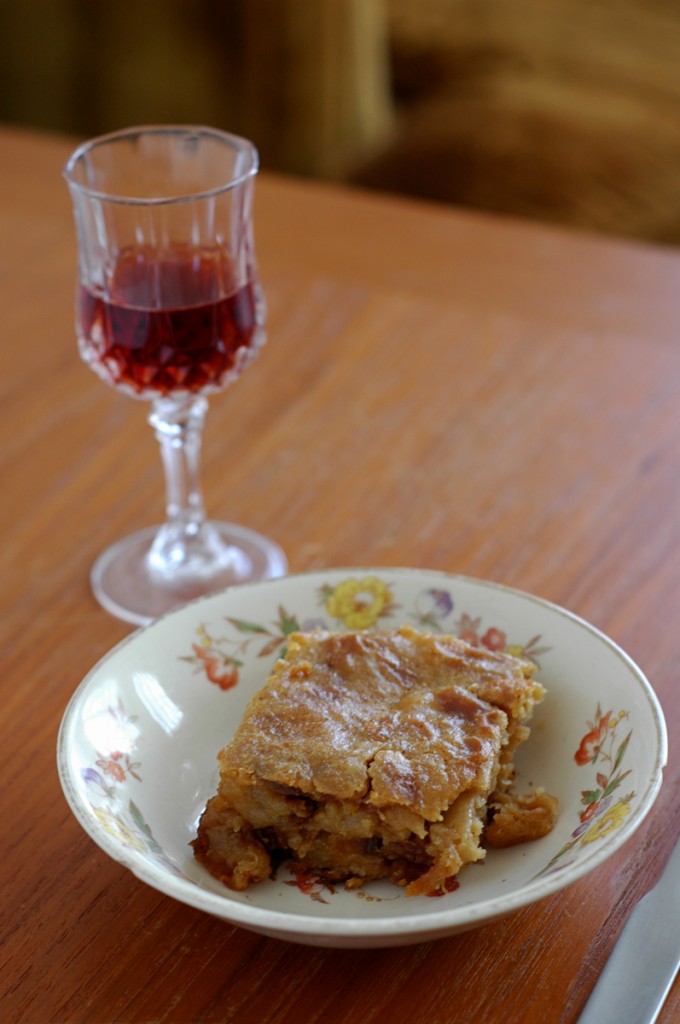 Bread pudding is one of those desserts that has the most rewarding ease:tastiness ratio. It's also dangerous. I could eat the entire pan in one sitting. This blog post has a recipe for a NOLA bread pudding with a cognac sauce served as the basis, but I also made some substitutions.
Ingredients:
4 cups cubed bread (I used soft buns, which ended up being a little too soft, so go for something with more texture like a French bread, a brioche or challah)
2 cups milk
4 tbsp butter + a little more to grease the pan
1/2 cup brown sugar
1/2 cup dried apricots (soaked in warm water for about 10 minutes) chopped in thin slices
2 eggs
pinch of salt
1/2 teaspoon grated nutmeg
1/2 teaspoon vanilla extract
1 tbsp vanilla cognac (I used Meukow, if you don't have vanilla cognac, use plain cognac or cooking brandy, just increase the dose of vanilla extract then)
Preheat the oven to 350F. Scald the milk lightly (no film!), melt the butter in the milk, then stir in sugar until well mixed. Let cool slightly and pour the mixture over the cubed bread and the apricots (make sure to squeeze out the excess water from the apricots after soaking/before adding to the bread). Let the mixture sit for about 10-15 minutes. Beat the 2 eggs, then stir in the salt, nutmeg, vanilla extract and the cognac. Mix well and then fold into the soaked bread and apricot mixture. Pour the mix into a well greased baking dish (I used a square 2L baking pan). Bake 35-45 minutes until the top is golden brown and a toothpick or knife inserted into the bread pudding comes out mostly clean. I didn't make a sauce to go with it because for me that'd just be too decadent, but the blog I linked has a great recipe for a cognac sweet sauce that would pair well with the pudding.