I have a tendency to get involved in far too many activities, meet-ups, projects and the like, and sometimes those don't have a long life span. It's been a particular point of pride and pleasure for me that for several years now I've managed to remain a consistent and active member of one of my groups: LARC – Ladies Advocating Respectable Cocktails.
Since late summer of '09, we've met more or less once a month to mix cocktails on a theme, share personal stories and reflections, and get to know each other over a tipple. I started out timidly, browsing cocktail recipes online instead of inventing my own. As I've learned more about the nuances of a balanced cocktail, I've gotten more adventurous, actually crafting my own (at least, I think they are) cocktails. We've had all sorts of monthly themes, from base spirits, to countries of the world, to more abstract ones, like creating a drink inspired by a song or a passage in a book. Our group is a small and manageable size, and we never drink a full glass of each cocktail, instead passing around a couple of tumblers, or decanting into small tasting portions. At each gathering, conversations go from academic to intimate, sometimes devolving into silliness, like writing (in the spirit of exquisite corpse) a short passage inspired by a side-splitting reading of that awful 50 Shades of Gray book. But mostly, we're there for the friendship, and the booze. And pizza, which seems to be our general go to food for the evening.
Below are two of my most successful – because I'd be lying if I said there weren't some disappointing flops -Â  recent creations. (I'm afraid I'm terrible at noting quantities, but it'd be roughly 2 measures first ingredient, 1 measure second, and half a measure or dash of each of the remaining. Give or take. Sorry. Play with it!)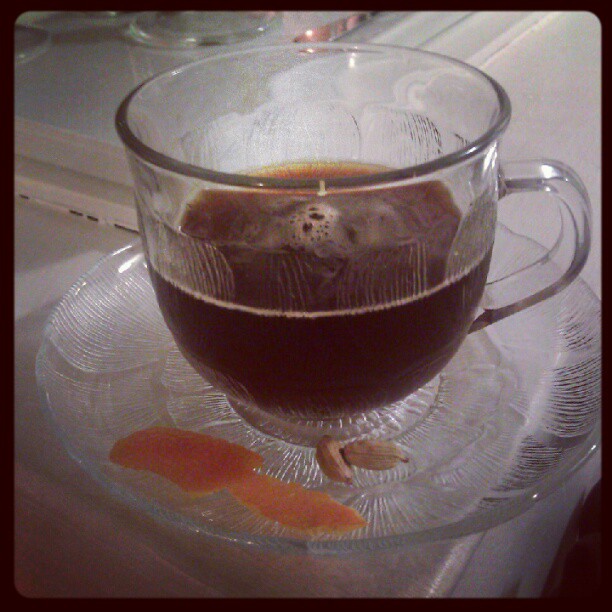 Cold brewed coffee, brandy, Scrappy's Cardamom Bitters, Torani Amer, home made orange-cardamom simple syrup (with some orange peel in the shaker). The theme was "vessels" hence my glass coffee cup & saucer.
The theme was songs, and I picked this eerie, entrancing, synth heavy Bee Gees song. Vodka, Galliano, St George Spirits' Aqua Perfecta Raspberry liqueur, and Scrappy's Chocolate bitters. No photos of this one, so instead, listen to the song.