Down the rabbit hole: Josef Lada, costumes and Czech fairy tale movies
by
Tanya
I have a tendency to go down rabbit holes while browsing online. It starts off with me searching for a song, a recipe, a moment in history – you name it. Then, a connected thread in something I'm researching will take me down a tangential path, and that might lead yet to another, and suddenly several hours have gone by. I will have about 30 different tabs open in a browser and, usually, will discover some new thing for me to find fascinating. For a long while I've been trying to figure out what to do with this blog, in between recipe posts, and that's when I realized that if the trip down the rabbit hole is fun and interesting to me, maybe there will be at least one or two other people who'll enjoy it. So here we are. Today, I'd love for you to dive into the world of Czech fairy tale movies with me, kicked off by the artist Josef Lada.
Some of you might know about Josef Lada, a self-taught Czech artist with a distinct style. He isn't terribly well known outside of Europe, but is influential enough to have had a Google doodle done for him on his 124th birthday and even has an asteroid named after him! Lada's work is both satirical, since he honed his style as a caricaturist, and idyllic, most noticeable in his folklore illustrations and seasonal paintings.
Lada is well known for illustrating The Good Soldier Svejk
by Jaroslav Hašek, and I've been hunting for an English translation of Lada's illustrated book about Mikeš, a traveling black tomcat. (I don't even know if such a translation exists.) 50 Watts, a must-follow blog on all things illustration/book design, has two image posts of Lada's pieces for you to enjoy.
Beyond his paintings and children's books, Lada also had his hand in film, both directly and indirectly. When I was growing up, there were a lot of Czech and Slovak films and TV series that were being shown in theaters and on TV in the USSR, dubbed in Russian. A while back, I found a forum where people would post plot summaries of movies they couldn't name. In one thread, I stumbled onto a discussion of a childhood film I've been trying to recall for a while: a Czech movie about a little girl and her brother who are transported to a magical picture land by touching an ink blot in a book. The movie turned out to be Kaňka do pohádky (Inkblot in the Fairytale, 1981) and the book portal in question was a volume of stories illustrated by Josef Lada.
The movie itself is hard to find with subtitles, so most of the plot is completely lost on me right now. Like this cow scene, for instance:
What I remember most distinctly is the ink blot, and the murals with which the children interacted on their little adventures.
While trying to find more information about the movie, however, I ended up discovering another interesting film – one of those things that had me going, "I didn't know this was missing from my life, and now that I know about it, I will not rest until I find out more." You have those moments, right? This second movie is Hrátky s čertem (Playing with the Devil), directed by Josef March in 1956. Based on the 1945 comedic play by Jan Drda, the story is political satire set in a fairy tale world. Drda wrote the play during Nazi occupation of his country, hoping to express the frustrations he and his compatriots experienced, while hiding it beneath the innocent, playful elements.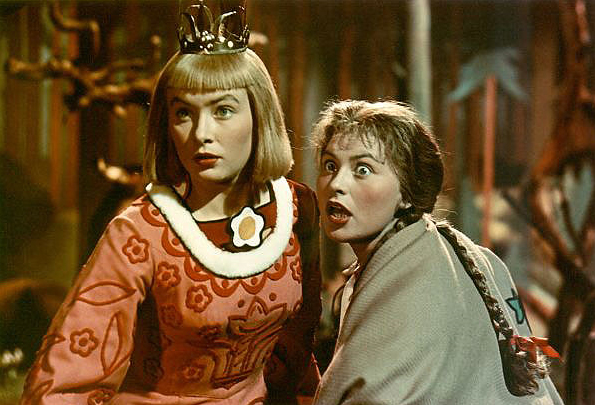 The story's hero is soldier Martin Kabát, who ends up helping princess Disperanda and her maid Káca when they foolishly make a deal with the Devil in exchange for his promise that they find handsome suitors. Martin ends up heading into hell to retrieve the certificates the young women signed, willing to sacrifice himself for their freedom and redemption. After many trials and tribulations, and even an angelic intervention, all ends well, and Martin and Káca end up marrying. (I like this particularly because in most fairy tales, the hero who proves himself valiant and self-sacrificing usually ends up marrying the haughty princess, not her trusty lady in waiting.) (Theatre and Performance in Eastern Europe: The Changing Scene
, Dennis Barnett)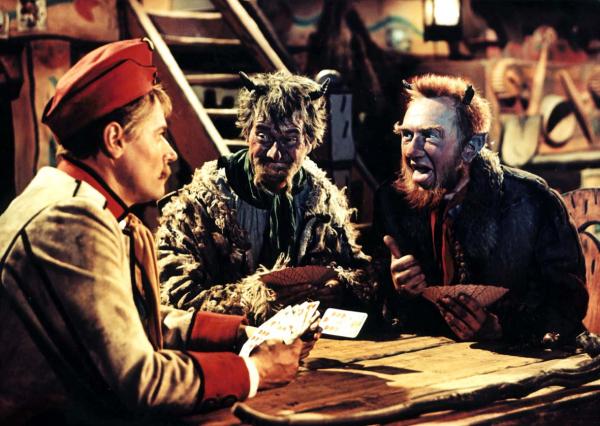 Lada had his hand not just in the many painted scenes and backdrops in the film, but also the costumes, which bear his distinct style: bright pops of color, with dark piping and stitching outlining button holes, hems and collars. In 2011, Barrandov film studio in Prague opened its doors to visitors to see its collection of costumes and set pieces from famous Czech fairy tale movies. (The article introducing the tours is in Czech, but there is also a photo gallery worth seeing.)
Among the many items on display in the Barranda archives (the collection boasts somewhere around 260,000 pieces, going beyond just children's film) there are costumes from one of my favorite childhood movies, Three Wishes for Cinderella (TÅ™i oříšky pro Popelku, 1973), a joint Czech and German production.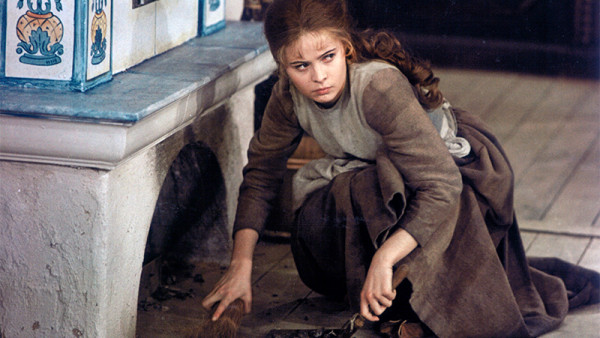 The adorable LibuÅ¡e Å afránková starred as the gutsy Popelka (Cinderella) who receives a small gift of a branch with three nuts. Popelka finds out that each nut can grant her a wish, which manifests itself in an outfit to aid her as she sneaks out of her stepmother's house. An avid horse rider and fan of nature in general, her first wish gets her a hunting uniform that I coveted as a kid. Dressed as a boy, Popelka bests a bragging young prince with her bow and arrow, winning his signet ring without him having any idea who she is.
Popelka ends up meeting him a second time, when she dresses in a lovely pink ensemble and crashes a ball thrown by the king and queen in their son's honor. The prince and Popelka dance, and she confuses him by telling him riddles that she hopes he'll figure out and understand that she is the same girl he'd first spotted in the woods long ago when she threw a snow ball at him, and the same young hunter who showed him up as a sharpshooter. The prince isn't quite quick on the uptake and doesn't really put the two and two together until the third time he sees Popelka, when she rides in on her white horse to reclaim the shoe she lost at the ball.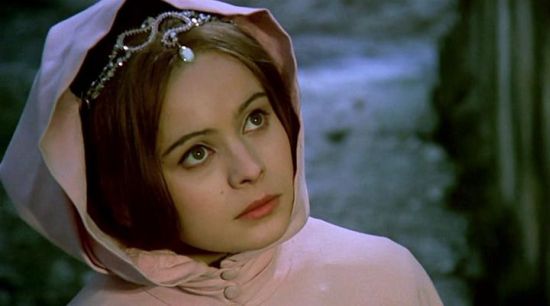 (This is one of my favorite scenes, although it's a clip from a version dubbed in French.)
LibuÅ¡e Å afránková later appeared in The Prince and the Evening Star (Princ a Večernice, 1979). The film has some of the most over the top costumes of the movies mentioned here. Å afránková is the Evening Star (Večernice) of the story, and her brothers are VÄ›trník (Wind), MÄ›síčník (Moon), and Slunečník (Sun). (Google ever so literally translated their names into Pinwheel, Monthly and Umbrellas. Thanks, Google. You're the best.) The brothers are really the ones who stand out with their ensembles.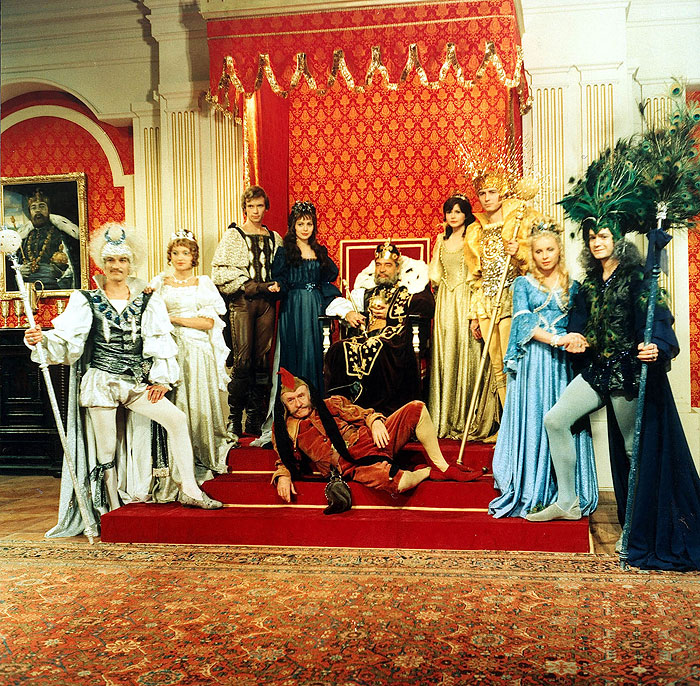 The story itself isn't exactly a feminist narrative. A young prince has been entrusted with keeping a watchful eye on his three beautiful sisters, but oops! they are whisked away by Sun, Moon and Wind to get hitched. The hapless Prince is in so much trouble! On top of that, he falls in love with the Evening Star, the sister of his new brothers-in-law. And to make matters worse, she ends up held captive by the evil wizard Mrakomor, so now he and his brothers-in-law have to rescue her. Eventually everyone lives Happily Ever After.
Around the same time that The Prince and the Evening Star came out, a popular TV mini-series began to air called Arabela. The story revolves around the Majer family, particularly Karel Majer, a children's TV series host and actor, and his college age son Petr. Karel Majer one day finds a magical bell which summons magician Rumburak who promises to do Karel's bidding. Things obviously don't turn out quite as they should, when Karel asks that Rumburak teach him how to shoot, so that Karel can impress his younger son and win him a toy at a shooting gallery.
Rumburak takes Karel to the his magical world, where Karel accidentally maims the wolf from the Little Red Riding Hood fairytale. The king of the realm blames Rumburak for this and punishes him accordingly, which makes the wizard angry and thus he decides to get his revenge, in the process turning both the fairy tale world and the human world topsy turvy.
At one point, Karel's son Petr meets and falls in love with princess Arabela from the magical realm (as is to be expected). Aesthetically, the series combined a lot of the velvet, brocade and gilt details that's expected from a fairy tale, but also included a lot of modern (for the time) set design and style, since all of the characters ended up crossing from realm to realm and adding to all sorts of chaos. The supporting cast included a lot of characters in both realms. Two of my favorites were MaruÅ¡ka, the little tomboy who was best friends with Karel's younger son, Honzík, and Fantômas, styled after the Jean Marais character from the 1964 French film, presented not as a villain but as a kind ally in Arabela.
The unfortunate thing is that a lot of the movies and series mentioned here aren't easy to find with English subtitles. Three Wishes for Cinderella used to be available from Netflix on an NTSC DVD with English subtitles, but no longer seems to be. A lot of crafty (and nostalgic) YouTubers have some of these films up online, but a lot are either in Czech without subtitles, or dubbed in Russian, which certainly benefits me but probably not a lot of other people reading this. So, I suppose, if you enjoyed reading this and now really want to watch the movies, I'm a jerk and please accept my apologies.
Updated to add: Found this better image of Popelka's hunting outfit, which shows some detail of her leggings with leaves and nuts embroidered on them.